Devmgmt.msc
Devmgmt.msc (Device Management) is a built-in Device Manager for Windows that provides you with a graphical view of the hardware that is installed on your computer. You can use Device Manager to update the drivers (or software) for hardware devices, modify hardware settings, and troubleshoot problems.
You will typically use Devmgmt.msc to check the status of your hardware and update device drivers on your computer. Advanced users who have a thorough understanding of computer hardware might also use Device Manager's diagnostic features to resolve device conflicts and change resource settings.
Warning! Incorrectly altering your hardware configuration can damage your system. Be sure to read the appropriate instructions before making changes to your hardware configuration. Changing resource settings improperly can disable your hardware and cause your computer to malfunction or be inoperable. Only users who have expert knowledge of computer hardware and hardware configurations should change resource settings.
The following permissions and privileges are required in order to manage device drivers. Administrators are granted these permissions:
The Load\Unload Drivers privilege.
The permissions needed to copy files to the system32\drivers directory.
The permissions needed to write settings to the registry.
Open Devmgmt.msc
Like other system applications, you can open Devmgmt.msc in various ways. The quickest and easiest way, which works on all Windows operating systems and languages, is to press Win R, type devmgmt.msc and click "OK".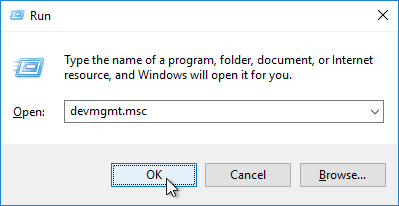 For more ways check How to open Device Manager (among other things, there you will learn how to open it with a hotkey).
Devmgmt.msc Features
The Devmgmt.msc provides various features for managing the hardware. Here are some of them:
Device Categories
Devmgmt.msc shows all available devices, but to make it easier to find a device, they are grouped by type. Depending on the operating system and computer configuration, different categories are displayed. Below are the most popular of them:
Audio inputs and outputs
Batteries
Bluetooth Radios
Computer
Disk drives
Display adapters
DVD/CD-ROM drives
Human Interface Devices
IDE ATA/ATAPI controllers
Imaging devices
Keyboards
Mice and other pointing devices
Monitors
Network adapters
Other devices
Portable Devices
Print queues
Processors
Software devices
Sound, video and game controllers
Storage controllers
Storage volumes
System devices
Universal Serial Bus controllers