System Summary
System Summary is the first category in the System Information category tree. The details pane displays general information about your computer and its operating system. You can view information about the operating system name, version, manufacturer, and directory location. You can verify the version of the BIOS or EFI, the processor type, and memory information.
You can use System Summary to:
Check the BIOS or EFI version and date.
Find out the name of the CPU.
Determine the directory in which the operating system is installed.
Verify that new memory is installed correctly by checking Total Physical Memory and Available Physical Memory.
Check the Page File Space value if the computer is having memory problems. Page File Space is the physical space on the hard disk that the operating system uses to increase the apparent size of RAM.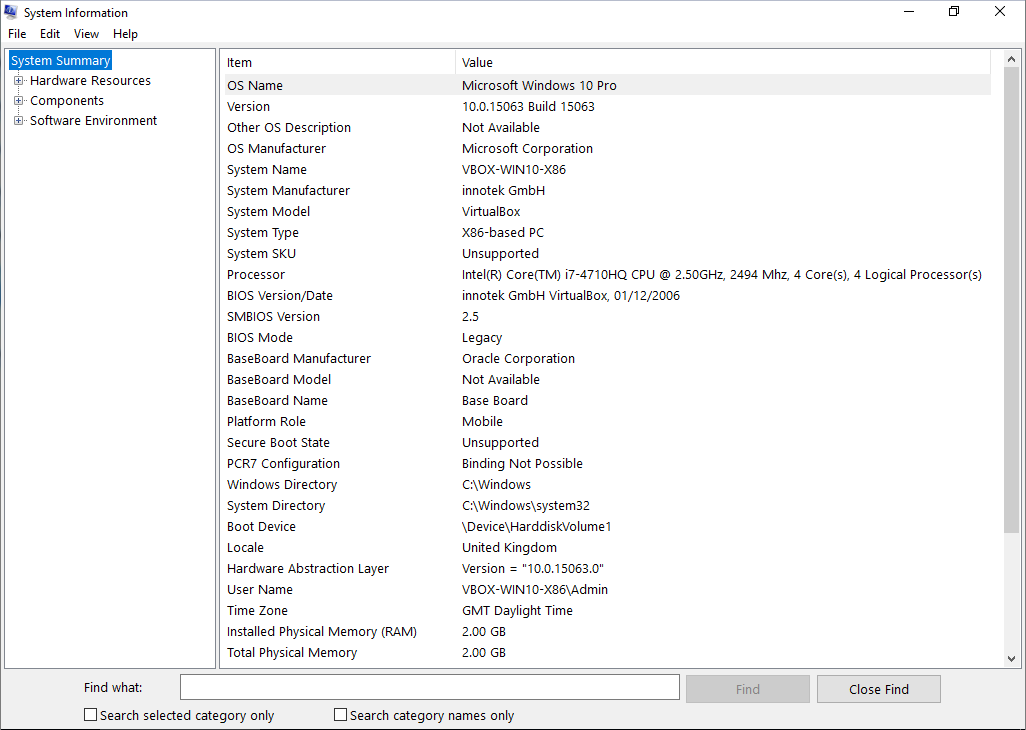 The full list of values provided by Msinfo32 System Summary:
OS Name
Version
Other OS Description
OS Manufacturer
System Name
System Manufacturer
System Model
System Type
Processor
BIOS Version/Date
SMBIOS Version
Windows Directory
System Directory
Boot Device
Locale
Hardware Abstraction Layer
User Name
Time Zone
Installed Physical Memory (RAM)
Total Physical Memory
Available Physical Memory
Total Virtual Memory
Available Virtual Memory
Page File Space
Page File